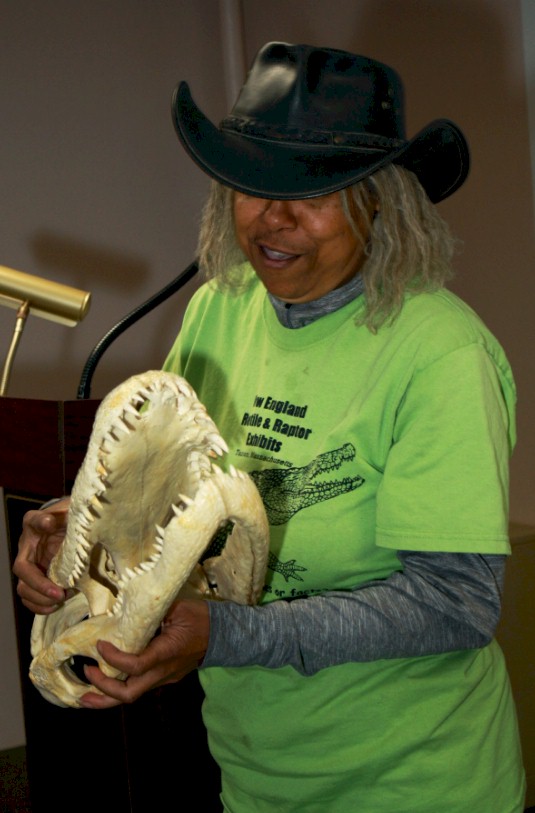 Marla Isaac, a Treasured Friend of Boyden Refuge

The Boyden Wildlife Refuge lost a friend and ardent supporter when Marla Isaac passed away on December 16, 2022. Marla, who grew up in Taunton, was an avid environmentalist and wildlife enthusiast. She was described as a self- taught naturalist by her son. Marla was a state and federally licensed caretaker of all kinds of animals, caring for 200 different species of animals in her home at various times. Animals included alligators, rattlesnakes, anacondas, boa constrictors, pythons, and birds of prey.

Marla shared her passion for animals in many different ways. She taught animal programs for children in schools and organizations all over New England.
Marla also conducted presentations for various organizations bringing along snakes, birds of prey and other critters to educate the public. She was also a state certified member of the Taunton Conservation Commission for many years.

Marla was involved in the beginnings of the organization Friends of Boyden Refuge Inc. in 1969. Denise Cabral, Conservation Commissioner Director at the time, asked Marla about forming a group to support the Boyden Refuge (at Mayor Nunes's request).

Marla asked Carol Traverse, who is still a Board member, to join her. Don and Betty Gregg and Dick Paulson were also members of the original Board. Don has since passed away, but Betty and Dick are still members of the Friends Board.

Marla supported the Gertrude Boyden Wildlife Refuge by participating in and leading all kinds of activities. She belonged to the Friends of Boyden Wildlife Refuge, Inc., serving as President and Vice President. Marla managed a summer Conservation Internship Program for children at the Boyden Refuge along with Don Gregg and Dick Paulson. The children participated in many activities, including having a camping out sleep over and walking the trails to learn about the animals that live in the Boyden Refuge.

Marla also headed a 4-H group that met at the Refuge. Years ago Marla, along with other Friends of Boyden members, planned and put on an impressive Fall Festival. There were many activities including pony rides, hot air balloons and Marla's animal presentation.

Marla will be remembered as an environmentalist and wildlife enthusiast who had a enormous impact on the lives of people and animals locally and in the New England area.
Obituary: Marla Isaac